The Center of Excellence in Project Management (CoEPM²) of the European Commission and the GSC.SMART – Digital Services of the Council of the European Union have collaborated to produce the first version of the PM² Programme Management Guide with an open-source license.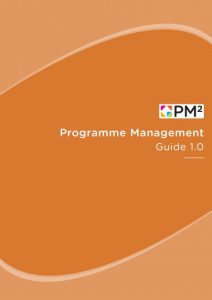 The PM²-Programme Management (PM²-PgM) Guide is a framework developed to support institutions and organisations in applying PM², the official Project Management Methodology of the European Commission and the most preferred one when it comes to the management of EU funded projects, in order to effectively run their Programmes. Operating as an extension of PM², PM²-PgM reinforces its overall offering by providing complete programme management guidance and support in any field. 
A "Programme" is defined as a collection of related projects and activities aimed towards a common goal and managed in a coordinated way, in order to achieve certain objectives and benefits which could not be acquired from the individual management of each project or activity. Programmes can as well incorporate work besides the scope of the initial projects. "Programme Management" consists the process of managing these interconnected projects to help the achievement of the programme's objectives and benefits.
All programme management guidelines and tools provided in the frame of PM²-PgM, are field / domain agnostic and can be therefore applied to any type of industry or business. Although PM²-PgM is fully aligned with PM², as it was developed upon its successful legacy, at the same time it includes elements from a wide range of globally accepted programme management best-practices, described in standards and methodologies, as well as relevant operational experience from the European Institutions.
The PM²-PgM Guide includes:
– A set of programme management processes and activities;
– Artefact templates;
– Guidelines for applying the processes and using the artefacts; and
– A set of effective mindsets.
If you are involved in a Framework Programme, such as a Joint Undertaking, the PM²-PgM Guide can operate as a particularly important facilitator for not only good project management, but also for strategy implementation. By aligning programme management governance activities with the PM² Methodology, organisations can find the required guidance for the overall programme's execution, discover synergies within the underlying projects that maximise the business value, as well as report programme performance and benefits to senior management.
Building on our direct experience within the E.C. and the E.U. funding and project environment, at European Academy we undertake in-house trainings on PM²-Programme Management, fully customised according to your programme's requirements. Contact us here to discuss about your training needs and see how we can tailor a PM²-Programme Management course to meet your specific objectives.
Looking for training and certification on PM²?
Participate in PM² Project Management Methodology for European Funded Projects, our synchronous online course and workshop, and learn all the essentials for the understanding of the EU projects environment and the management of projects. 
Seeking training on another topic of European project management?
We offer training services on all aspects of funding under European Frameworks, discover all our upcoming courses here and find the one that suits your needs!
Interested in learning more about PM²-Programme Management (PM²-PgM)?
Read the Guide here.
See all of European Academy's courses